How much money should I be spending on marketing? This is a question business owners often only ask when puzzling over why their business isn't growing.
Are you a sales or marketing led organisation?
For B2B organisations, sales teams are often the 'go-to' growth driver.
After all, it's easy to measure the impact of a sales team and spending time on the phone and in meetings with prospects and customers feels tangible.
You know exactly how much each salesperson costs, and you can directly attribute revenue to each one of them.
When hiring new sales staff they will often bring their network and relationships with them making it easy for your business to rapidly open doors to new customers.
But how scalable is this approach? And what if your business model doesn't support it?
The impact of marketing on sales
As someone who has overseen marketing across a portfolio of brands, I have seen first hand the impact marketing can have on various sales team's ability to succeed.
Take two hypothetical salespeople who each put a sales call in to the same customer. One salesperson represents a brand which has a high level of brand awareness within the sector. The other brand is new and unheard of.
Both individuals are selling exactly the same product in terms of features, price, quality etc. The only difference is that the customer has 'heard' of one of them. They may not recall where they have heard of them, but the brand name is familiar.
Empirical evidence suggests that the salesperson from the familiar sounding brand will have a much higher likelihood of having a positive conversation and ultimately closing a sale than the salesperson calling from a company that the customer has never heard of. So much so that brand awareness can also have a significant impact on a company's ability to hire sales people.
If you're an SME, you may be thinking: "this sounds expensive".
After all, how many startups and SMEs have budget for TV and radio? Well here's the trick. You don't need TV and radio.
Is being 'famous' the key to sales and marketing success?
You don't need to be 'universally famous'. You only need to be 'famous' in your niche, and if you're a B2B business, your niche should be relatively small. If it isn't, you need to pick a segment to focus on.
Look for some initial evidence of success, demand or interest from a particular sector and start there.
Do you know who your customers are?
Your next step is to create an 'ideal customer profile' or ICP (also known as 'avatar' or 'persona') to help you develop a clear picture of who your target customer is. Write down the typical job title, geography, company size, sector as well as typical age, hobbies, interests etc of your ideal customer.
Once you have done this, you can start to develop a marketing plan that enables you to focus your targeting and advertising specifically on this type of customer. You need to start thinking about where they 'hang out' and how you can get your message in front of them.
By being narrow with your targeting you are maximising the impact of every marketing £ spent and over time you can develop targeted awareness amongst this audience. They will see your adverts, your white papers; and your articles on the websites and magazines they read. They may see you at industry events. In the mind of the customer you will start to become a 'leading brand', or 'famous'.
Because your efforts are focussed you should also be able to attribute any subsequent increase in new business back to the campaign.
How much money should I spend on marketing?
So to the original question, how much should you be spending on marketing?
Data from the Gartner CMO spend survey shows that marketing budget allocations tend to trend at 11% of company revenue.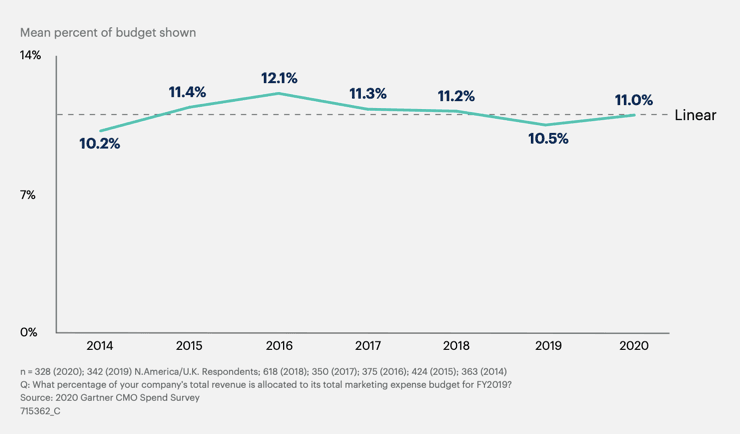 The survey is based on Gartner's 2020 CMO Spend Survey of 432 marketing executives in North America, the U.K., France and Germany at companies with $500 million to $20 billion or more annual revenue.
There's no reason however why this should be different for companies with a much smaller turnover.
Marketing budgets by industry sector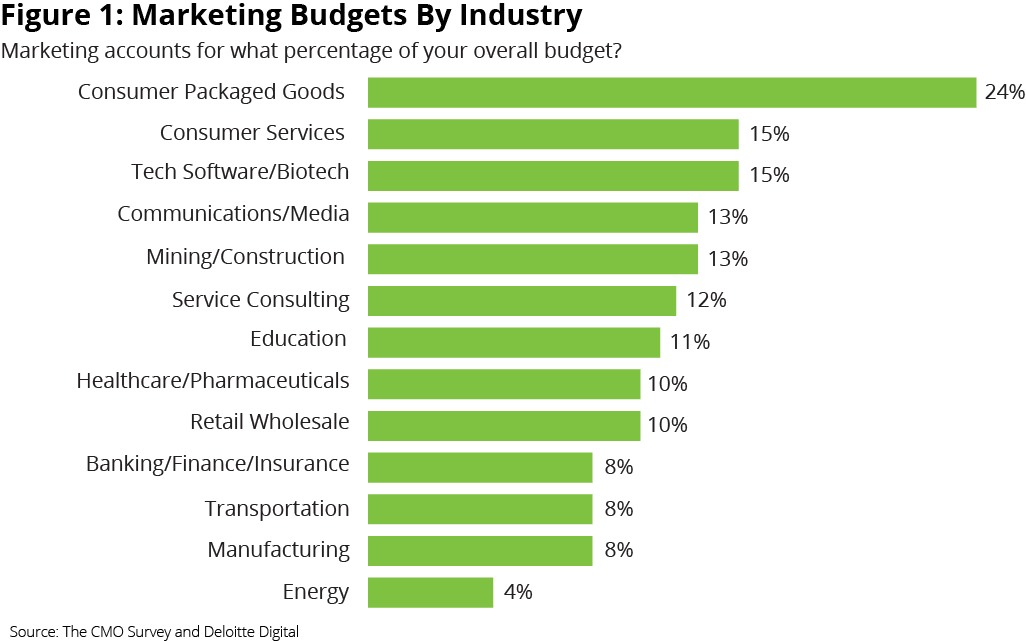 As you might expect budgets behind mass consumer goods are very high as a percentage of revenue with 24% of revenue spent on marketing. At the other end of the scale you have energy, manufacturing and transportation. Being essential services that people can't do without, not much marketing is required and budgets come in at 4-8% of revenue.
B2B type services like service consulting (12%) and tech software (15%) including B2B SAAS come in a little above the average of 11%.
How CMOs allocate marketing budget
The highest expense tends to be that classed as 'direct expenses of marketing'. Typically this is advertising costs such as Google. Social media and employee costs come in not far behind.
The common pitfalls relating to marketing budgets
The big mistake many CEOs and CFOs make is to consider marketing a luxury; a budget line that they can afford to reduce or eliminate altogether, especially when business is tough.
But it's times like this that business leaders should be doubling down on their marketing spend and ensuring they have marketing leadership in place that has the ability to think creatively beyond traditional marketing channels and techniques.
Quality, experienced marketing leadership will focus relentlessly on maximising your bang for your marketing buck and ensure spend is allocated into areas focused on relentlessly hunting down and funneling new customers into your business. Why would you turn the dials on this down when times are tough?
Should I reduce my marketing budget?
In times of economic hardship, many companies look to reduce spend. This makes sense if the demand for the types of products or services you offer reduces. But whether it does or it doesn't, it's an excellent time to gain market share. Many of your competitors will be reducing budgets giving you the opportunity to gain ground in a less crowded market. Every pound you spend on marketing will go that much further without your competitors around.
Not all companies are able to do this. But for those that have the resources, this contrarian approach can be too good an opportunity to miss. Of course wasting advertising budget on a disinterested audience doesn't make sense. But in the digital sphere where you are only paying for 'clicks' from active/interested buyers – maintaining or increasing budgets when your competitors are reducing them is smart.
If you need help putting together a B2B marketing budget get in touch. We've done it hundreds of times for various types of businesses and it's one of the key building blocks in launching a successful marketing strategy.